Since its launch in 2007, the China Horse Fair (CHF) has consistently grown and developed alongside the industry it represents and it is now acknowledged as China¡¯s largest, most established and most international gathering for trade professionals involved in all forms of equine sports and leisure activities. Indicating the sector is entering a new period of growth and development, CHF 2015 attracted 3,500 professional trade buyers from across China coming from the major equine centres of Beijing, Tianjin, Inner Mongolia, Shanghai, Chengdu and Wuhan and representing a big increase of 44% over last year¡¯s show.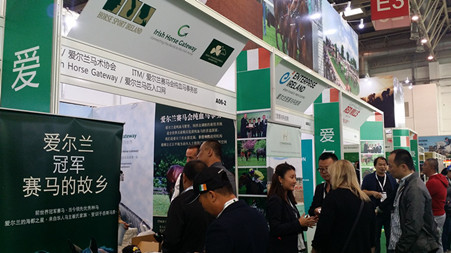 International Pavilions attracted great interests
Taking place from 14-16 October 2015 at Beijing's New China International Exhibition Center, CHF 2015, the 9th edition in this successful series, hosted more than 130 exhibitors representing some of the world¡¯s top horse breeders and trainers, leading facility equipment manufacturers, nutrition and health care suppliers, horse transportation and ancillary service providers from Europe, the Americas, Asia and the Middle East. Along with the many regular exhibitors there were a significant number of new to market companies taking this opportunity to put their products in front of an increasingly knowledgeable and professional audience.
In addition to the many leading Chinese suppliers on display, there was a strong international presence with large official pavilions from Ireland, France, Germany, Belgium, the Netherlands and Argentina, six power-houses of the global equine scene. Alongside them were exhibitors from Australia, South Korea, Canada, USA, Portugal, Japan, Sweden, New Zealand, Italy, UK , Chile and Singapore.
A visit to CHF 2015 offered owners and operators of breeding establishments, rider and horse training schools, stables, equestrian centers and horse racing facilities, an opportunity to meet, view and compare the latest products and services on offer from a record number of local and international exhibitors. Products and services on display covered nutrition, dental and healthcare, stabling and transportation, saddlery and tack, clothing, fencing, safety, training and facility management, purchasing and breeding.
Trade buyers making enquiries at CHF 2015
Commenting on the results, Sonia Ou Yang, Marketing Manager for CHF 2015, said "We were delighted to welcome such a strong visitor and international exhibitor presence to the CHF 2015 and it clearly demonstrates a belief in China's potential to be a major world player in the future." She went on to say ¡°The buyers who visited CHF 2015 definitely benefit from having direct access to international experts who were able to discuss and advise them on their future plans and requirements. ¡±
¡°We were also delighted to see that over 35% of both the Chinese and International exhibitors had joined the CHF for the first time this year, clear recognition of its status as the first-choice trade exhibition." Said Sonia ¡°It is important for Chinese trade buyers to see new brands, innovative new products and understand what options to choose from, both locally and internationally, and so make more informed purchasing decisions to help them improve their own business.¡±
As well as the exhibits on display and the practical advice available on the stands of suppliers, CHF 2015 hosted a range of highly topical activities including live riding skills and horse training demonstrations, educational forums, and networking drinks which created great opportunities for exhibitors and visitors to benefit from first-hand exchange of information.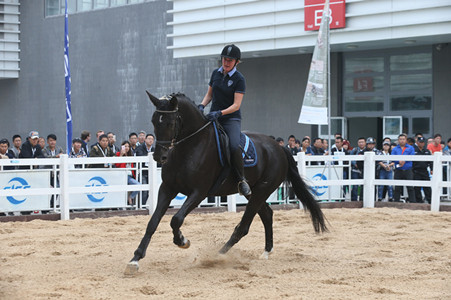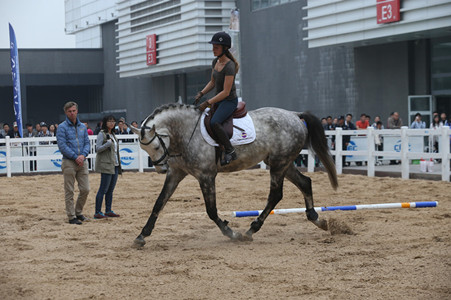 Riding demonstrations proved a popular and informative attraction
Once again this year¡¯s educational presentations included experts from Ireland, Belgium, Chile, Germany, France, The Netherlands, and Sweden at CHF 2015 Forum. The themes discussed included ¡°Horse health welfare & healing¡±, ¡°Equine dentistry¡±, ¡°The benefits of copper horseshoes or pasta hoof with copper salts¡±, ¡°Horse breeding¡±, ¡°Horse and rider training¡± and ¡°How to make a Chinese horse club profitable¡± etc.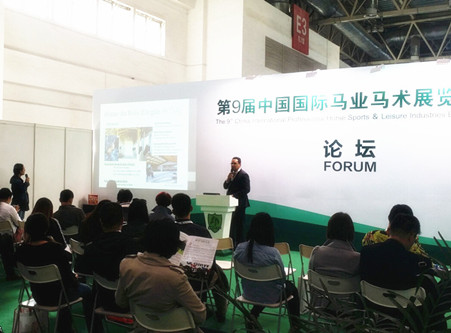 Equine experts shared their knowledge during the event
The presence of numerous market leaders, the comprehensive products exhibited and the diversified supporting programmes aroused great interest among the visitors. Accordingly the feedback from exhibitors at CHF 2015 has been very positive.
¡°While this was only our second time to attend the CHF, it has already become a staple of our calendar year. We have tried other access venues for the Chinese market, and experience has told us this is the only reliable option in China. In addition, the CHF team is very accommodating and always willing to help. This has a critical aspect in making our trade show successful.¡± said Mr. Jeffrey Wintersteen from WA Ventures Equine Services.
CHF 2016 will once again take place in Beijing from 19-21 October 2016.
Further information is available at www.chinahorsefair.com.cn.